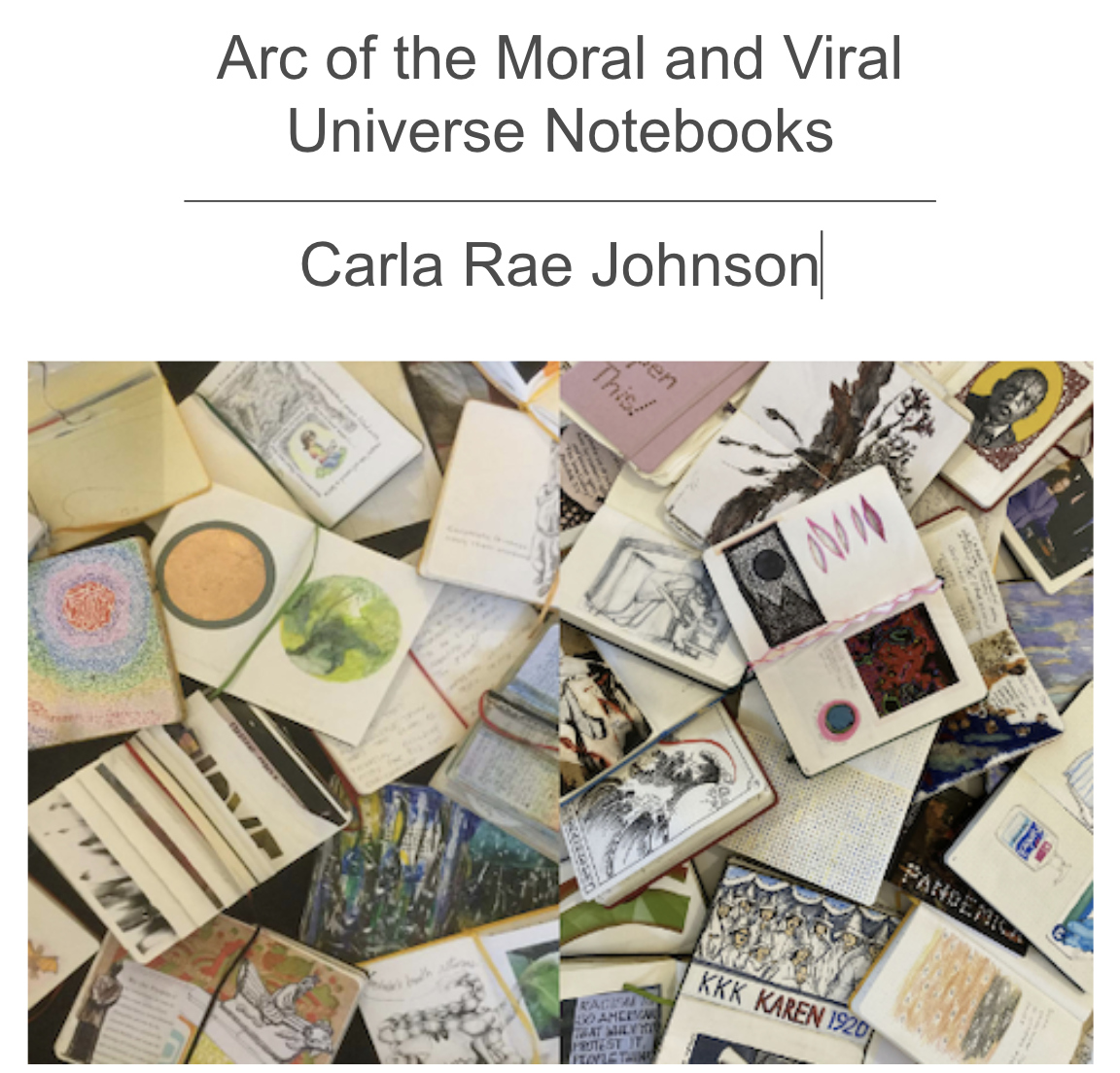 Arc of the Moral and Viral Universe Notebooks
 February 1 – April 26, 2023
Reception, Thursday, February 16
6:00 – 8:00 p.m.
I do not pretend to understand the moral universe, the arc is a long one, my eye reaches but little ways. I cannot calculate the curve and complete the figure by experience of sight; I can divine it by conscience. But from what I see I am sure it bends towards justice. — Theodore Parker, 1853
Deeply concerned about the trajectory of justice in our country in 2018, I found Theodore Parker's words recurring in my mind. Does it indeed bend towards justice?
I put out a call for participants in a notebook project to address the "Arc of the Moral Universe." That yielded more than 60 volumes filled with drawings, sketches, writing, lyrics, photos, montages, cut-outs, fold-outs, and abstractions documenting one year in each of their lives.
In 2020, I confronted the reality of a world-wide viral pandemic and the "Arc of the Viral Universe" was begun. I invited participants from the first notebook project, plus 100 creative individuals from all walks of life. This resulted in over 30 bound volumes documenting daily lives, unease about the future, concerns for the planet, outrage at the effects of systemic racism, apprehensions about threats to democracy, and glimmerings of hope in the midst of the most challenging of times. They confirm my belief that "Creative people are among the ones to register these events and respond in hopeful, compassionate, and positive ways." carlaraejohnson.org
Center for the Digital Arts Gallery Hours
Monday – Thursday, 10:00 a.m. – 8:00 p.m.
Friday, 10:00 a.m. – 4:00 p.m.
Saturday, 10:00 a.m. – 3:00 p.m.
To contact us for more information, please call 914-606-7300 or email peekskill@sunywcc.edu and include your name and phone number so we can respond to your inquiry efficiently.